Welcome to the World of
Sooner and Jake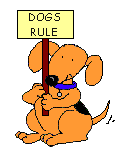 The world of Sooner and Jake is all about "my boys".
Needless to say, they are a very special part of my life.
And they really keep life interesting.



Something to think about....
If you can start the day without caffeine or pep pills
If you can be cheerful, ignoring aches and pains,
If you can resist complaining and boring people with you troubles,
If you can eat the same food everyday and be grateful for it,
If you can understand when loved ones are too busy to give you time,
If you can overlook when people take things out on you,
when through no fault of yours, something goes wrong,
If you can take criticism and blame without resentment,
If you can face the world without lies and deceit,
If you can conquer tension without medical help,
If you can relax without liquor,
If you can sleep without the aid of drugs,
Then, you are almost as good as your dog or your cat.



Sooner is my buff and white Cocker.
He is 10 years old and "the boss".
He's been a survivor from the start
and has his share of ailments,
(he has a degenerative joint condition and he's blind)
but he's a #1 Sweetie!

Because they are so special, Sooner and Jake will
have their very own, individual pages.
Sooner's page is underway.
If you are a dog lover, as I am, I suspect you will get a kick
out of the antics of "the boys". My vet assures me that having
two males dogs is like having two teenage boys....NEVER a dull moment!
As of this writing, he has been 100% correct!







Jake is my 4 year old black Cocker.(His birthday is Dec. 5)
He came to live with Sooner and I after my Gelsey Girl (a 12 year old
black Cocker) died of cancer. He has certainly done the job
of filling our lives with bounce and laughter. He is one
happy dog and fearless. He backs down from NO ONE!:-)
There is much more about Jake on his own page.





Sooner and Jake never meet a stranger and
they LOVE to go see their doctor.
(He and all the staff love them too. It's like a reunion each visit.)
As a matter of fact, they just like to GO...when I head for the door
they are ready to load up and go along. It doesn't matter where.
I'll always have great tales to tell and some snapshots
will be following very soon.



This is a wonderful story. I hope it touches your heart as it did mine.
A store owner was tacking a sign above his door that read
"PUPPIES FOR SALE"
Signs like that have a way of attracting small children and
sure enough, a little boy appeared under the store owners's sign.
"How much are you going to sell the puppies for?" he asked.
The store owner replied, "Anywhere from \$30 to $50."
The little boy reached in his pocket and pulled out some change.
"I have \$2.37," he said. "Can I please look at them?"
The store owner smiled and whistled and out of the kennel came
Lady, who ran down the aisle of this store followed by five,
teeny, tiny balls of fur. One puppy was lagging considerably
behind. Immediately the little boy singled out the lagging,
limping puppy and said, "What's wrong with that little dog?"
The store owner explaned that the veterinarian had examined the
little puppy and had discovered it didn't have a hip socket.
It would always limp. It would always be lame.
The little boy became excited. "That is the little puppy that I
want to buy!" The store owner replied, "No, you don't want to buy
that little dog. If you really want him, I'll just give him to you."
The little boy got quite upset. He looked straight into the
owners eyes, pointed his finger, and said, "I don't want you to
give him to me. That little dog is worth every bit as much as
all the other dogs and I'll pay full price. In fact, I'll give
you \$2.37 now, and 50 cents a month until I have him paid for."
The store owner countered, "You really don't want to buy this little dog.
He is never going to be able to run and jump and play with you
like the other puppies."
To this, the little boy reached down and rolled up his pant leg
to reveal a badly twisted, crippled left leg, supported by a big
metal brace. He looked up at the store owner and softly replied,
"Well, I don't run so well myself, and the little puppy
will need someone who understands!"

This love story is for you, Sooner.




Winter has finally arrived here in Oklahoma.
My boys are very spoiled and stay inside all the time.
They will hardly leave their warm pallet to go potty.
I hope you will take extra care of your special friends
this cold weather. They need a warm, dry place for shelter
and plenty of food and water.
They ask so little of us and give so much.
Please take a little extra time and give them that extra
blanket and patch up that hole in the roof of their doghouse.
I know they will appreciate it.
Bless you for caring for our special friends.




For now, I'll just say Hugs and Puppy Kisses from me and the boys.

Please come back soon and SIT and STAY with us. :0)




Please visit this site. It has vital information about caring for your pets and will raise your awareness about all pets.



If you have a special friend
this is a great page to visit
for fun and information.



American Kennell Club
Some graphics provided by: