One of the greatest ingredients is love. If you add it to all you do
you will find that even the simplest of recipes
have extraordinary results.
This site will be under constant construction
as I find lots of wonderful recipes (for cooking and life)
to share with you.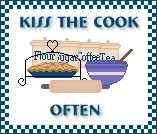 Before Christmas, we (the Chemistry Dept. at OSU) have a covered
dish Christmas luncheon and like all covered dish affairs
you can find some very interesting new dishes. In addition,
our department is like a mini United Nations. We have a wonderful
mix of nationalities and at Christmas time, everyone brings a
little of their homeland to share. This wonderful bread
was brought by a professor from Argentina. I'm not sure if
it is a native country recipe, but it is REALLY good and if
you like homemade breads, you'll want to add this to your collection.


Stuffed Bread

8 cups flour
3 eggs
1/2 cup margerine
2 packages of yeast
1 tsp. salt
2 Tbls. sugar
2 1/2 cups milk
1 cup chopped ham or turkey
1 cup raisins
6 strips of bacon
1 cup olives (black or green, your choice)

Dissolve yeast in warm milk and let set for 30 minutes.
Add sugar and wait 1 hour.
Mix eggs with salt and add to the yeast mix.
Add flour and margarine and stir together well. Turn our onto
lightly floured surface and knead till smooth and elastic.
Let rise until double in size. Punch down and divide into 4
equal parts. Knead again and then roll each piece to 1/2 inch
thick. Put equal parts of the ham/turkey, raisins, bacon and
olives on the rolled out dough. Roll the dough and seal the ends.
Place on a greased cookie sheet and brush with eggs. Bake at 375 degrees
for 50 minutes. Serve hot with soup or other dish. ENJOY!!
This is another outstanding bread recipe. It comes from a friend
from many years ago. Hope you enjoy it!


Jo Howell's Oatmeal Banana Nut Bread

1/2 cup shortning
1 cup sugar
2 whole eggs
1 cup mashed banana
1 1/2 cup sifted flour
2 tsp. soda
1/4 tsp. salt
1/2 cup 3-minute oats
1 tsp. vanilla
1 tsp. cinnamon (if desired)
3/4 cup chopped pecans

Cream shortning and sugar well.
Add eggs, one at a time, mixing thoroughly after each addition.
Add bananas and mix well.
Sift flour, soda and salt. Add with oats to creamed mixture.
Stir in nuts and flavoring. Pour batter into greased 9"x5" loaf pans.
Bake at 350 degrees for 50-55 minutes.
This is a great breakfast bread or for desert, topped with
whipped cream. :0)ENJOY!!
This is one of my own twist on Enchiladas. Depending on whose
eating it will vary how spicy hot it is. :0) Hope you enjoy it
and will "make it your own" as I have.


Enchilada Casserole

In a skillet, brown:
1 pound of ground beef (you can use ground turkey too)
1 medium onion, CHOPPED
Drain off any excess grease and add the following:
1 can of Enchilida Sauce (you choose the temperature)
1 can chopped Green Chilies
1 can Cream of Mushroom Soup
Heat to bubbling and remove from heat.
You will also need:
12-16 ozs of grated Colby/Jack cheese
1 package of corn tortillias (about a dozen or so)
In a 13 x 9 baking dish you will:
Spread a thin layer of the meat mixture
Cover with a layer of the corn tortillias
Cover with a layer of cheese.
Now repeat the last three steps until you have a full dish.
(I really pile on the cheese)
If you like raw onions, omit them from the browning at the beginning
and add them when you layer the ingrediants. This gives a bit more bite.
Now bake in a 350 degree oven until the mixture is bubbling.

I serve this with refried beans and spainish rice, Queso and chips
and we have a PARTY!!
When I'm in a hurry, the beans and rice come right out of a can.:0)
This recipe and the trimmings will easily feed 8 to 10 hungry people.
VIVA TACO!!!
Do you have comments? Questions?
Let me know!



ggedwards@sprynet.com