Warm Fuzzies and Smiles

This page will be filled with all sorts of things.
There is so much in our lives that makes us smile or creates
that warm fuzzy feeling that we all enjoy.
This page is dedicated to all those things.
It's a potpourri of my warm fuzzies and smiles
and I hope as time goes on will include many addition
from those of you who share your smiles and fuzzies with me.

At the beginning of WWII Britain's King George offered this message
to his embattled people. It is certainly one that each of us
can apply to our life today and hold as a challenge for tommorrow.

"I said to the man at the gate of the year, "Give me a light that
I may go forth into the darkness." And the man replyed,
"Put your hand into the hand of God. That shall be to you
better than a light, safer than a known way.""

A new friend shared some womderful things with me recently
and I would like to pass a few of them along to you. I hope
they make you smile as they did me.

I've learned....
I've learned that you can't hide a piece of broccoli in a glass
of milk. Age 6
I've learned that when I wave to people in the country,
they stop what they are doing and wave back. Age 9
I've learned that silent company is often more healing
than words of advice. Age 24
Ive learned that wherever I go, the world's worst drivers
have followed me there. Age 29
Ive learned that singing "Amazing Grace" can lift my spirits for hours. Age 49
I've learned that making a living is not the same thing
as making a life. Age 58
I've learned that everyone can use a prayer. Age 72
I've learned that even when I have pains....
I don't have to be one! Age 82 (I love this one!)



One of the things that has brought a lot of joy in my life
is my daughter.
She is now 22 and married (she and hubby are pictured on the family page)
Before she came to college, she danced with a large civic ballet
company in Wichita Falls, Texas. She was a very gifted dancer
and LOVED it. She spent about 25 hours a week (yes 25) in the
studio, working and rehearsing with the company. She did this for 10 years!
(Needless to say we wore out a few cars. :-o)
I'll brag a little more and say that she danced the lead in the "Nutcracker"
for 5 years. Not to mention several others. The hours were long
and she learned to eat, sleep and study in the car, but the rewards
that she gained (wonderful friends, a keen sense of discipline and dedication)
far outweighed any of the shortcomings. She really misses dancing,
but God has filled her life with some wonderful things since coming to Stillwater.
These two pictures are a fond reminder to me of the many hours we spent
traveling the 75 mile round trip, 4 or 5 days each week and the of
the beautiful dancer she is and the beautiful woman she became.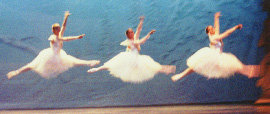 Christie is the one in the middle in the second picture. She loved to fly!



"When a man is gloomy, everything seems to go wrong;
when he is cheerful, everything seems right!" Proverbs 15:15
God's blessings to you and yours.




Rose graphics by:



Hobbes bar by:




Please come back soon! :0)